After eight years of successfully completing their elementary school education on the Live and Learn in Kenya program, the children usually begin vocational training if they are not eligible for high school.

Depending on their interest and suitability, they opt for different possibilities – skilled trades such as tailor, carpenter, electrician, mechanic, hairdresser.
Training usually takes two years.

We are currently working with various training centers to provide our graduates with good vocational training.
The sponsorship contributions pay for the training fees and provide the young people with the necessary basic equipment / clothing free of charge.
At regular intervals, our social workers visit the vocational students to monitor their progress and maintain contact with them.

Our plans for the future is to set up our own training workshops the Live and Learn in Kenya Education Center so that the young people can learn a skilled craft here and at the same time operate a profit income for the school.
We are already operating our own tailoring workshop, which could be developed into a training workshop in the future. Former LLK youths volunteer their time and energy to help raise funds by taking orders for clothing and uniforms – as well as saving LLK money by sewing the uniforms for our school children. They also sew the clothing that sponsors have made for their sponsored children as gifts for birthdays, etc.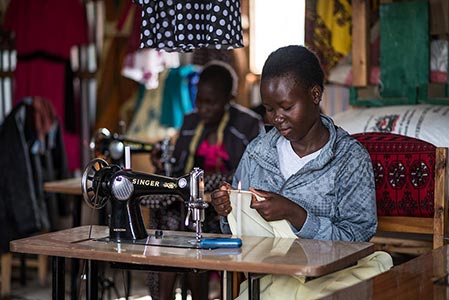 Salomé is a perfect example of successful training and self-sufficiency.
Salomé Omukasia: After completing her elementary school education with Live and Learn in Kenya, she went on to complete her vocational training as a seamstress. Supported by a micro-credit, she bought her own sewing machine and has since made a living herself.
This is the primary objective of our project: to train children so that they can earn their own living and free themselves from poverty and become upstanding citizens of their society!
Salomé continues to be extremely grateful to our project: if time allows, she can be seen sewing uniforms for our school children free of charge, the proceeds of which benefit our project.