We're building an education center in the Ronda / Barut slums of Nakuru in Kenya!

We are building an education center in Nakuru, Kenya's fourth largest city, for the disadvantaged children living in slums. Our center is situated in the outskirts of the Ronda / Barut slums.
Because we know that the only way out of the vicious circle of poverty is through a good, basic education, we are giving these children the opportunity to be all that they can be and on day free themselves from poverty through their own efforts.

Our project includes the construction and maintenance of a kindergarten, an 8-year elementary school (6 classrooms to date) and the necessary sanitary, supply, kitchen buildings with dining hall. We are planning a vocational training school, a library, a clinic and and volunteer's house.

Since we finance our projects solely through donations, we can only continue building if there is enough funding to start a new phase of construction.
In 2014 we began the construction of the school center with the purchase of a suitable plot of land in in the outskirts of the Ronda / Barut slums Nakuru in order to provide a haven for the children outside of the actual slums. Since then, thanks to generous sponsors and many donations, we have been able to complete large parts of the elementary school, including sanitary buildings, the kitchen and dining hall. During our visits in Nakuru we have built a colorful playground with many attractions and a stage for the kids.

Our school center is – which is not self-evident in Kenya – connected to the public power grid and even has its own Internet connection!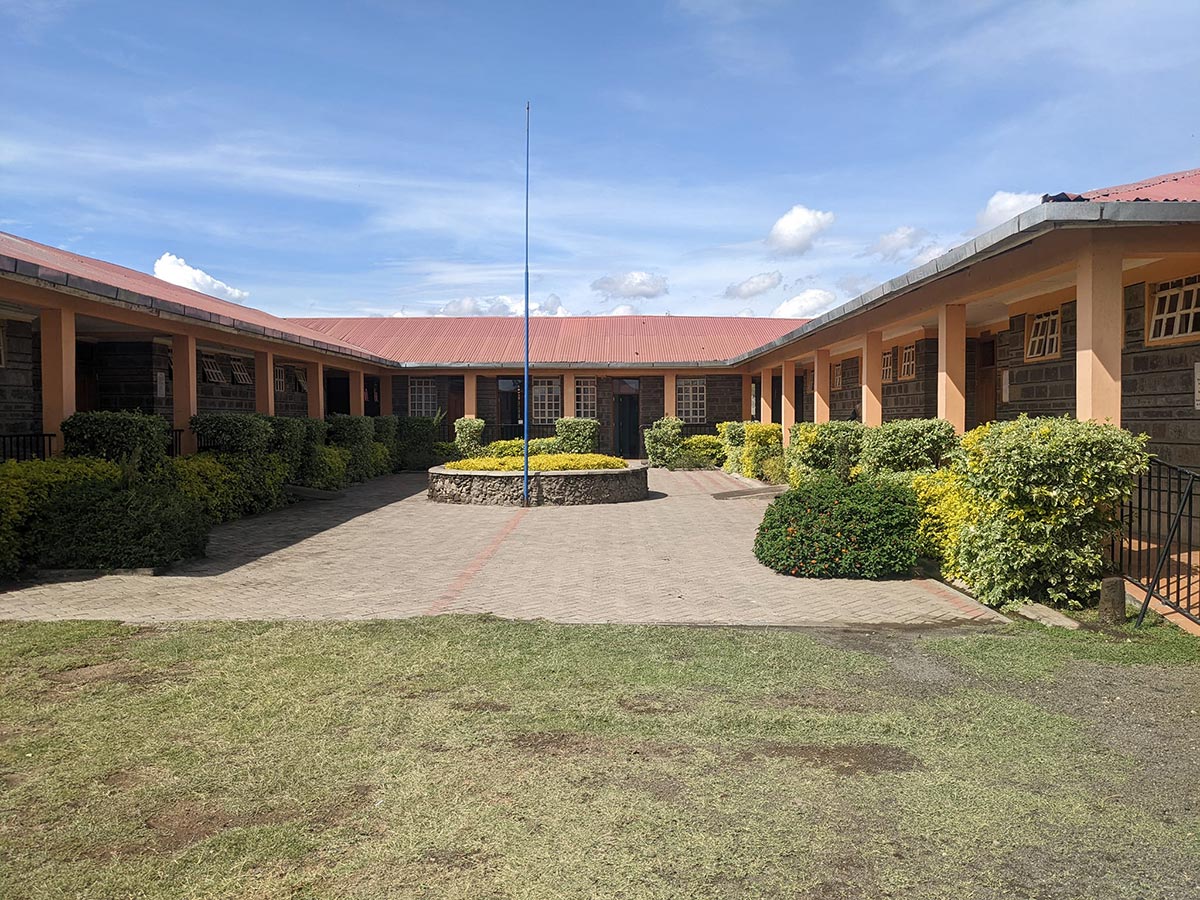 school (photo 2022)

We have already opened our doors to a brighter future for hundreds of girls and boys.
The learning conditions in Kenya's public schools are far from comparable to those in Europe or the US. Due to constant underfunding, 50 to 100 children or adolescents (in extreme cases many more) are taught in dark and stuffy rooms, often with holes in the floors or ceilings and with completely dilapidated and inadequate school furniture.

Although the school fees were officially abolished in Kenya, the schools nevertheless charge fees for school materials, school uniforms, lunches or even furniture. Poverty-stricken families cannot afford to send their children to school – and often are forced to send them into the streets to beg – or worse.

At our school center we give the children a pleasant learning atmosphere in functionally equipped, high-quality classrooms and with well-trained teachers – conditions that are usually only reserved for the wealthy.