Coffee-to-go mugs "Inkies"
Decór: Suzen Juel, USA / Made by: Rosenthal, Germany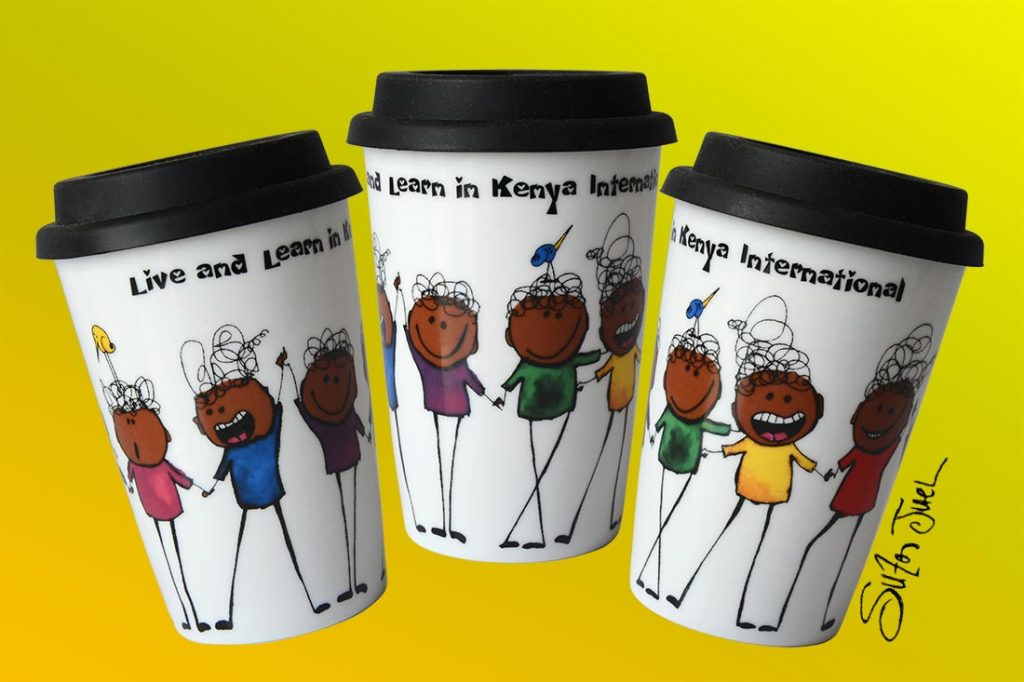 We are pleased to present the beautiful Live and Learn in Kenya Coffee-to-Go mugs that were designed by the US artist, Suzen Juel. Suzen's well-loved "Inkies" are dancing around the fine porcelain mug with a silicone cap from the world-renowned German porcelain company – Rosenthal.
50% of the proceeds will be donated directly to Live and Learn in Kenya Int'l in order to provide meals and education to poverty-stricken children living in the Nakuru, Kenya slums.
Price per mug: 24,50 € including sales tax / free shipping with the EU. US$ 28,- plus shipping outside of the EU.
Order yours:
PayPal – info@llk-selb.de
or:
Leben und Lernen in Kenia e.V.
IBAN: DE43780500000200072114
BIC: BYLADEM1HOF
Don't forget to write your delivery address!
---
Current state of construction of the LLK Education Center:
Thanks to the many generous donations and successful activities, the construction of the elementary school has made enormous progress. The elementary school construction was completed in May 2018. Also the pavement of the school courtyard is done and the wall around the site is drawn. In July 2018 we began the construction of the dining hall. The completion of the dining hall now depends on the donations. Your continued support will make a difference.
---
The following pictures document the progress of the construction activities at our school center: In 2014, the parents of the project children cleared the area acquired by LLK (about 100 m x 100 m in size). A few weeks later, the construction of the first three classrooms began. In each of the following 3 years another classroom could be added. At the end of 2017, the construction of classroom no. 7 and the first part of the office / teacher's room started. In March 2018, the rooms were completed and the construction of the last classroom and the second part of the office / teachers' room started. In May 2018, the construction of the primary school was completed with 8 classrooms, office and staff rooms. In 2017, the new kitchen building was completed. Parallel to the school construction, the cowshed for the three sponsored cows was finished and a stone wall was built around two sides of the property. In June 2018, the groundbreaking ceremony took place for the construction of the dining hall (which should also serve as a multi-purpose hall) and its connection to the kitchen. However, the funds accumulated towards this construction have been used up in September 2018 and the completion is dependent on further new donations.